At Sorenson Kennels we make boarding a comfortable getaway for dogs and cats! Our pet boarding facilities are fully-equipped, climate-controlled, and secure, giving you peace of mind — and giving your pet an environment that makes them feel safe and loved while you are away.
Our friendly, experienced kennel attendants want nothing more than to create a home away from home for your dog or cat. Not only do we care for your pets like we do our own, but we also ensure your furry friend has the least disruptions to their normal lifestyle as possible. You can count on your pet staying happy and active with plenty of supervised playtime during their stay at Sorenson Kennels.
With our clean, cozy accommodations and one-on-one attention, we guarantee that we can make your pet's kennel experience an enjoyable one!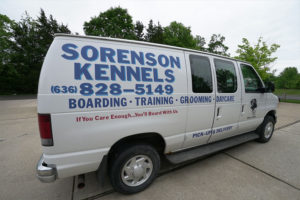 Pick-up & Delivery Service
We understand how stressful going out of town can be, that's why we make things easier for you with our pet shuttle pick-up and delivery services. We will also take your pet(s) to the airport and handle all of your shipping needs so you won't have to worry about a thing!
LEARN MORE ABOUT OUR SHUTTLE & KENNEL BOARDING RATES & REQUIREMENTS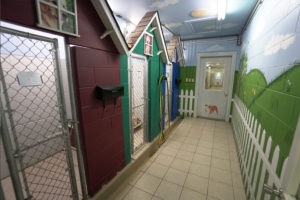 Dog Boarding
Our dog boarding services offer three different types of kennel setups, so you can choose what works best for your pup's needs.
LEARN MORE ABOUT OUR DOG BOARDING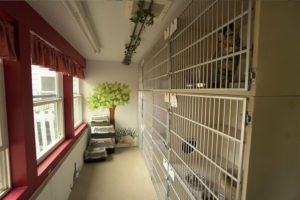 Cat Boarding
Our quiet, cats-only kennel accommodations are comprised of two interconnecting condos that give your feline the perfect amount of space to roam and relax in.
LEARN MORE ABOUT OUR CAT BOARDING
Pet Kennel Boarding
Our pet kennel facilities located in Defiance are convenient for all pet owners in the St. Louis area! For reliable pet boarding services from a team of caring dog and cat lovers, contact Sorenson Kennels today!