Help your dog reach its full potential by signing up for hunting training! It can be a very frustrating experience to try to train a dog to retrieve during a hunt without the assistance of a professional dog trainer. Not only do you need to learn the training, but you need to apply it correctly for your dog to understand and master. Working with experienced trainers, such as those at Sorenson Kennels, can help you and your dog meet your training goals.
Our retriever training mission focuses on positive reinforcement to ensure the dogs have fun while they learn in an effective way. We use a technique called "marker training." Treats and other rewards are given to encourage good behavior.
At Sorenson Kennels, we train all retrievers and breeds for hunt training. Additionally, there are four different hunt training programs to fit the needs of any and every hunting dog. Learn more about our programs below!
Puppy Head Start Program
The Puppy Head Start program is designed to introduce young dogs to the concept of retrieving. During the program, your young dog will be introduced to birds, water, and gunfire. The puppy will also be introduced to the proper obedience commands. The age requirement for this program is 13 weeks to six months.
Basics / Gun Dog Program
During the Basics/Gun Dog program, your dog will learn all the basic necessities to be a good hunting companion. During the basics program, your dog will learn how to deliver bird to hand, retrieve long land and water marks, and be steady to the shot. Your dog will also be introduced to any hunt scenario you wish.
Your dog will also be collar conditioned to all obedience commands. Collar conditioning is an off-leash training tool that reinforces the importance of following commands on an e-collar. Eventually, with the proper training and techniques, dogs can be trained to transition from the e-collar to working off-leash when they are retrieving.
This program is a mandatory three months in which the dog stays at our facility, but you are still welcome to come by and see your dog during that time!
Transition / Advanced Training Program
This program is designed for dogs that have completed the basics program and can compete at higher level hunt tests, or if you simply want a finished gun dog. During this program, your dog will learn how to perform a blind retrieve and mark multiple birds as well as be exposed to more challenging concepts.
Pre Hunting Season Tune-Up
This is designed to get dogs ready for the upcoming hunting season. If your dog needs some reminders of their basics or to get in shape, this is the program for you. Your dog must have completed basics to enter this program. The tune up is a minimum of one month.
Please contact us for more details and pricing for all programs.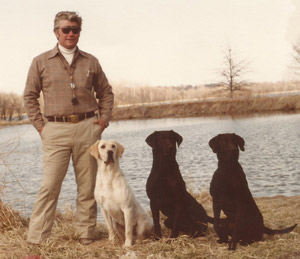 Tom Sorenson Awarded AKC Lifetime Achievement Award in Performance
Tom Sorenson's love for dogs is evident by the long list of awards he accumulated during his 45-year career as a professional retriever trainer. Tom was a professional trainer and handler with more than 50 AKC field trial champions, and he was included in the prestigious Retriever Hall of Fame. Tom won the 1973 National Retriever Championship, the most coveted prize in professional retriever field trials, with a magnificent Labrador named FC Bairds Centerville Sam. There is no doubt that Tom Sorenson will go down in history as one of the top professional performance trainers and handlers in the country. And we are proud to carry on his legacy! Tom's grandson, Cody Sorenson, is following in his footsteps and is now the head Hunt Trainer here at Sorenson Kennels.
Enroll Your Dog For Our Hunting Classes
For 40 years, Tom Sorenson's commitment to a higher standard of quality dog training and customer satisfaction stands true today in our family-owned operation. Come see for yourself!
Sign up for a training program with our experienced and reputable trainers and achieve peak performance from your retriever today. Please bring information from your veterinarian and/or current vaccination records for us to keep on file. Contact us today!