The Best Home Away From Home Where Caring Professionals Make The Difference
A full day's rate is applied the day you drop your pet off, no matter what time.
Our check-out time is 12:00 noon, a full day's charge is applied any time after that.
We need to see proof of vaccinations for your pet(s). Either you can bring in a copy of the records at check-in, or the inoculation records from your vet can be faxed to us prior to boarding. Fax: 636-398-5147
Dog Sitting Rates
Dogs
(per day) 5' x 17' runs
Dogs
2 or more dogs, same family
Dogs
Long term boarding (1 month or longer)
Puppy Suites
(per day) 5' X 5' run
Playtime / Exercise
single dog
Playtime / Exercise
Multiple dogs from same family
Cat Sitting Rates
Cats
2 or more cats same family
Cats
Long term boarding (1 month or longer)
***PLEASE NOTE: We do not accept pets (dogs or cats) that require insulin shots 
Pick-up & Delivery Service
Pick-up and delivery services are available. We will also take your pet(s) to the airport and handle all of your shipping needs too.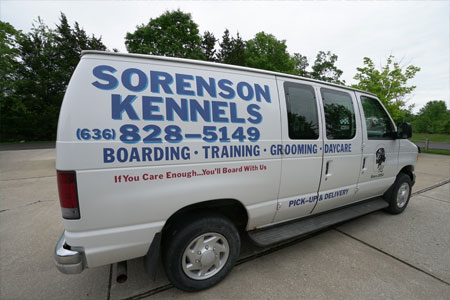 Pick Up & Delivery Rates (per trip)