Don't let man's best friend turn into a source of stress. At Sorenson Kennels, we have the professional dog training you need to help your puppy or dog become the companion you always dreamed to have!
If you're looking for dog training in the St. Louis area, you came to the right place. Our staff includes some of the best dog trainers in around and they are eager to solve your four-pawed problems. Whether you just brought a puppy home or want to teach new tricks to your old dog, we are your best choice for canine training in the St. Louis area!
Dog Obedience Training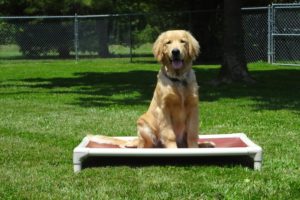 When it comes to changing bad behavior and teaching obedience, there isn't a one-size-fits-all solution. And that's why our canine trainers recognize that each dog is different and needs customized obedience training. Whether it's teaching basic skills, like sitting on command or de-programming bad habits built through the years, like biting the leash, our canine trainers use positive motivation to get rid of your pet's negative personality traits.
Moreover, years of practicing canine obedience training in St. Charles County have taught us the importance of owners' involvement. So, not only will we teach your dog but will also give you the tools you need to communicate with your dog like a true alpha.
Hunting Dog Training Classes
Whether you have a dog that is starting from zero, still learning basic skills, or is needing a tune-up before the season begins, our seasoned dog trainers will spare you mid-hunt frustrations and guarantee that you and your dog enjoy your time together next hunting season.
Retrievers, like people, need to sharpen their skills every once in a while. Otherwise, basic skills can make way for bad habits. At Sorenson Kennels, we know how important off-season retriever training is for your dog's performance. So, if you were looking for ground-up hunting dog training—or even just a refresher—our gundog trainers have the experience needed to make a skillful hunter out of your retriever.
Puppy Training
When it comes to canine training, the golden rule is that the sooner you start the better! Whether you want a champion retriever or simply a dog that will behave when there are guests in the house, our professional full-service puppy training will shape your puppy's behavior to meet your standards.
Just drop off your puppy at our beautiful facilities to board for two weeks and let our experienced puppy trainers use positive reinforcement methods, like food treats and games, to capture your puppy's fleeting attention and build good manners.
Professional Dog Training
Are you tired of your dog's bad behavior? Don't let your furry friend's poor manners spoil your relationship. Our facilities located in Defiance is convenient for all dog owners in the St. Louis area! Contact us today to have our expert dog trainers at your disposal!